Services for Rehab in Denver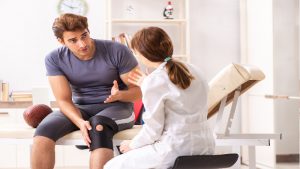 Services for rehab in Denver are varied to suit the needs of every patient. The first part of any rehabilitation plan is diagnostic services. The injury or issue has to be identified correctly if any treatment is going to be effective. These tests can include a hands-on physical assessment, ultrasound machines, X-rays, CAT scans, and electrodiagnostic tests (EMGs). EMGs can diagnosis pinched nerves, diabetic neuropathy, carpal tunnel syndrome, and more. On-site testing facilities makes diagnosis easy, quick, and convenient. Once testing has been concluded, patients will meet with Dr. Portner to discuss non-surgical treatment options and action plans.
Traditional options for Rehab In Denver, such as physical therapy, massage therapy, acupuncture, and medications, are available for injuries, chronic pain, illnesses, and conditions. Most patients respond well to those treatments, so they are a common starting point. Newer treatments are offered for specific circumstances and for patients that do not respond to traditional treatments. One such treatment is injection therapy, which refers to a host of therapies that require injections for delivery. Cortisone is a commonly recognized injection therapy to reduce persistent pain. Steroid injections and trigger point injections are also available. Regenerative medicine is also delivered via injection therapy.
Another newer technique to treat nerve pain is radiofrequency ablation. In layman's terms, this is a process that uses high-frequency radio waves to destroy specific nerve endings with an electrical current. Results typically last from six months to one year. It is used for chronic conditions when a patient does not respond to regular treatments for conservative pain management. It has proven effective for severe arthritis pain, degenerative spine conditions, and some other orthopedic conditions. This procedure can be completed on-site and has few complications. Some patients experience minor bruising or swelling that dissipates within just a few days of treatment.
Whether a patient has experienced a temporary injury, was hurt at work, or suffers from a chronic condition, a whole-body approach to rehabilitation ensures the fastest recovery possible. Forensic services are offered to provide objective assessments and comprehensive medical evaluations for worker's compensation claims, personal injury cases, disability determination, and insurance approvals.