Hiring A Pro: When and Why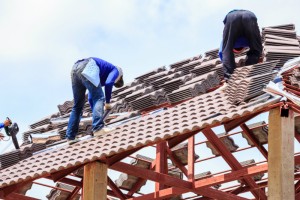 While certain projects are DIY friendly, there are those which require the keen eye and steady hand of a professional. Whether you live or work in Newark, New Jersey, certain situations call for prompt service from a certified roofing company.
From fire to flood, New Jersey is particularly prone to natural disasters that can jeopardize the integrity and value of your home or business. Besieged by hurricanes in summer and blizzards in winter, high winds and heavy downpours can wreak irreparable damage on your property. In these instances, only an expert roofer will know what it takes to return your roof to pre-disaster condition, ensuring both structural support and safety. For disasters of the more man-made kind, expert guidance is just as critical in your time of need.
Accustomed to mitigating some of the worst circumstances that Mother Nature can unleash, Badger Roofing Inc is experienced and eager to lend its expertise to roofing needs large and small. From residential to commercial to industrial services, we are a fully-insured and -bonded company that will work tirelessly to make sure that your property is sound and your family, safe. When disaster strikes, give us a call.