Different Needs In Boat Trailers For Sale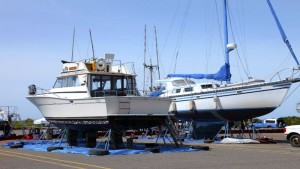 Buying a boat trailer, either new or used, should be a very significant decision. This is particularly critical for boat transport trailers where high speed and road conditions have a direct impact on the safety of the boat while it is being moved.
There are several different types of buyers for new and used boat trailers for sale. The three most common types of buyers are private boat owners, marine transport services, and boatyards. While boat yards typically use the yard trailers for short distance moves around the yard or the marina, some also offer trailers for rent or lease or offer a boat transport service.
The different types of buyers may have different requirements when considering new and used boat trailers for sale. For all, a key focus is the quality and craftsmanship in building the trailer that often provides the difference between the various manufacturers.
Private Buyers
The private buyer is typically going to haul one boat on the trailer. This may be a powerboat or a sailboat, but the need to haul multiple sizes and types of boats is less likely to be a factor.
Private buyers can work directly with the top boat trailer manufacturers and create a custom trailer specifically for their vessel. This is ideal as it provides the security, safety, and convenience features best suited for that specific boat.
Boat Haulers and Transport Services
Boat hauling and transport companies are located on both coasts of the country, as well as in Canada and South America. These companies need to find boat trailers for sale that offer the safety to haul a wide range of vessels, but also the flexibility and versatility in design to allow the service to transport a range of boats.
Marine boatyards have the same requirements, and both transport services and boatyards are also focused on trailers that have a long life cycle and extremely low maintenance requirements.